Have you come across a situation, where you want to take partial screen shot?
There is an inbuilt Windows tool for that,
Snipping Tool
Screen Capture / Print Screen with Snipping tool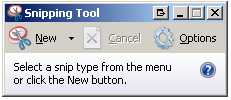 We can access this tool from Windows
Start Menu -> Programs -> Accessories Snipping Tool
This tool capture partial screen, there is an option to select the area you want to capture at a time and it will be stored in Clip Board. This tool is very efficient to store the picture in PNG image format with a minimum file size. Try it today!
Here is an FAQ on Snipping tool:
http://windows.microsoft.com/en-us/windows/snipping-tool-faq